Post by o0HeaDShoT0o on Dec 27, 2018 19:11:12 GMT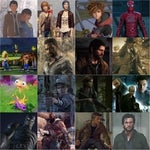 As I'm going out collecting debts, I went for the closest one, witch was Mr. Wrobel. I only got one punch in and then took what I can that would make up for the money he owed. Boy, did I feel like an ass when he started crying. Then there's Chick. Along the way there in the middle of the night, I sat down with this alcoholic stranger about his sins, about what he done to some Indian folk until drunky passed out. Then Chick gives me a run for my money when I had to chase the slippery bastard and hogtie him. He then gave me a treasure map as to where to find the debt. Managed to find it using the destination marked on the map for me. Lastly, I go to collect from Lilly and her man takes a swing at me. After I beat his ass, I take the debt and then get framed for robbery by some random bystander. I hauled my ass outta there with the debts and brought them to the camp.

Then I went to Valentine post office to pay off the bounty for what happened earlier in order to keep the bounty hunters and the law off my back. Hope I won't end up having to do that too often. Oh, and I've been having some quality time with this fella named Mickey. Guy only has one arm, but I enjoy his company. I'm probably the only friend he's got. After that, I see this smoke in the distance and go check it out. Some outlaws were trying to gun down some civilians until I come riding in and shoot their heads off with Dead-eye. After that, I walked up to the old timer that approached me so he could thank me and then looted the outlaws before taking off.

I started the next mission that involved Kieran. The poor son of a bitch was close to losing his balls before he finally said where O'driscolls would be. I had a feeling we wouldn't find Colm that easily. Went out with John and Bill together and got some throwing knives. Once we reached the camp, it was time to do some stealthy stuff. Got Bill to kill ol' Pissy-by-the-tree first, then we took out two more with knives. Got John to kill a guy sitting on a log, and just went to town on him. Then I took the lead and tried using throwing knives for the first time... and we got caught. Welp, so much for stealth. I was aiming for the head, too. (Naturally.) Once everyone was dead, one last sneaky jackass almost blows my head off, and that's when Kieran actually saved me. So, I guess now he's officially(?) one of the gang.

I got all the money and stuff, plus a shotgun. But then I realize that I ended up giving up the repeater. Not sure if it'll be worth the trade. Oh, and then I get Wanted while I was busy looting the rest of the dead guys and now there's a bounty for me at a place called, Fort Wallace? I tried to pay it off, but Valentine's post office couldn't help me with that. I keep collecting and getting a notification that I don't have enough space in my satchel for some stuff. I tried getting Pearson to upgrade it, but I need pelts first before he can help me out, and I don't know which one would be more help to me in the future.

Oh, and I took the advice on getting a bath while I was at Valentine. Some lady offered to help, but I wanted to hold on to my money for now.
You still have the Repeater, it's just stored in your saddle. Whenever you're with your horse you can take any combination of two sidearms and two long arms, so don't worry.
Yeah, I figured that out once I looked through my horse's cargo. Now, I just went through something so stupid.
I was talking to Dutch about those bonds we found and then he tells me to go into Valentine to get Lenny drunk after he told us that Micah was arrested for murder. I was planning on having just one drink and be the designated rider. Except, Arthur went and had one too many regardless of what I wanted. Now, here I am, stumbling around like an idiot, looking for Lenny, then we keep drinking, slap fight each other, then dancing, and dunking, then when sheriff came, we bailed.

I wake up in the middle of nowhere, my hat was gone, I left my horse at the bar, and Arthur is hungover. If that weren't bad enough, it's started to rain, and I was cold. This is why I only wanted Lenny to get drunk (and why I will never drink alcohol IRL). So, now I go out on the road, I find some guy working on his horse, I greet him, and then his horse just straight up kicks the shit out of him. Goddamn, that got me laughing. So, anyway, I borrowed a horse to get mine back, and then went to camp to check in on Lenny.

Continuing this drunk stupidity, Swanson was drunk as a skunk playing poker with two gentlemen and after he fainted, they ask me to play in his place. (Please note, I have never played poker in my life). With no idea how to play poker, I refused. Then I find Swanson get into trouble with some bearded fella. I knock him out, chase down a witness to convince him to not say anything, and then, I spy that drunk priest on the train tracks. At this point, I'm like, "Are you fucking kidding me right now?!". I was barely able to save him from getting ran over by a train, then I carried him all the way back to camp to sober up.

So, lesson of the day? Steer clear from alcohol, kiddos.