Post by Carmen on Jul 25, 2014 8:32:39 GMT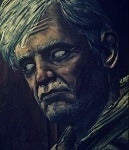 it's kind of alarming to me that after they built Crawford up to be an absolutely awful place, this episode 4 is encouraging the player to wholly embrace its philosophy.
No more than the Ben decision in Episode 4 encouraged you to embrace Crawford's philosophy. They just left the choice there. It's up to the player as to whether or not they would take it.
Do you really think Carver cares if she's the doctor's daughter, with his philosophy of pulling weakness out by the roots?
Actually, I think that's precisely why she was spared. You don't kill or exile your only doctor's daughter. If he had done so, you think Carlos would have done
anything
else with the rest of his life than get revenge?
That no one is born strong, and everyone has the capacity to find strength within themselves. That even at your lowest, you can keep going long after you think you can't.
Isn't this pretty much the crux of Clem's story? She was normal girl who found strength within herself to struggle and continue onward despite an endless barrage of pain and misfortune. Sarah serves as a foil to that. A person who doesn't have the capacity to find strength within herself.
To call her a liability that needs to be tossed aside
I called her a liability. I never said she needed to be tossed aside. The old and feebled, the young and helpless, the injured and weak. These people are undeniably liabilities to any group in a survival situation. The smart, pragmatic, survival-minded thing to do would be to abandon them. But that's not what humanity does. We shelter our weak. We defend them. We prioritize their safety above others and our own. Even in the most dire of circumstances, even when things seem hopeless, even when death is imminent, we don't forsake our fallen.
1. While Ben's choice offered the opportunity, it didn't encourage it. Crawford's Survival of the Fittest outlook explicitly brings about its downfall with Anna Correa. Here? Sarah dies to highlight Jane's philosophy, which hilariously enough, is exactly the same. Ben dies halfway through episode 5 yes, but saving him doesn't feel like a waste. He has presence in the story and even learns to stand up for himself to Kenny and offer insight into his life and what he struggles with. Sarah gets nothing but to be a background model until she dies, while Jane nods sadly and goes "Yep, see, needed to be put out of her misery like Jaime. This is why I only look out for myself bye."
2. Carver is out of his mind. Sarah is clearly terrified of him which, lmao, leads to a gross characterization error as she idly talks to Clementine while he's speaking. And as we see, there's only so much he can take. He might have gone easier on her but no way, sorry, I don't believe he would have let her get away with the outrageous levels of helplessness Telltale insists she has.
3. No, because Clementine was immediately shown to be more competent and capable than any young girl her age. This is explicitly touched on by every single character. Sarah is immediately seen as soft and fragile, the type you think won't last a second on her own. But she outran the horde by herself, right up until she froze in the trailer. She's able to sneak past Carver undetected in episode 2. She has strength, even if she didn't realize it, but it's all immediately forgotten even by the narrative itself.
She is a foil to Clementine, you're right, but that shouldn't be the extent of her character. And it is.
4. You didn't say she needed to be tossed aside, but talking about how long Clementine will carry this heavy burden like she's a piece of meat or something is pretty damn dehumanizing.
And again, you are probably right on the money as far as what Telltale wants you to get from it. But that doesn't erase the fact that its implications are awful, and that it's incredibly tasteless to imply people who suffer mentally are just there to be protected, and that they have no capacity to survive. We're not just talking about video games here; this kind of shit has real world connotations and stems from very real stigmas. And it was Telltale's conscious decision to continue that.