Post by Deleted on Nov 22, 2017 17:13:20 GMT
I fully expect to be the only one to post a list here, but, I'm bored, so why not?
Not including graphic novels i.e. comics that are only one book. So for me, this excludes The Wake and Severed. It also excludes A.D.: After Death, which I'm not sure I can really consider a comic since about half of it is prose fiction.
Honorable Mention: Maus
So this is a list of series I've read, and yes, technically Maus is a series - it's two books - but I've always considered it to be a singular graphic novel, and besides, it's so hard to judge alongside anything else on this list because it's pretty much the best graphic novel ever. In my opinion, nothing else really even comes close. The craft in the design, art, dialogue, writing, is incredible. Everything about the way this book was created is masterful, and the subject matter of the story, the true story of Art Spiegelman's father surviving the Holocaust, is impossible to judge. So, it stays here, as an honorable mention, but for the record, this basically does trump everything else on the list.
10.
Giant Days
This comic is just... pure adorableness. It's just so cute and funny. It's also the only contemporary comic on my list, and while I was tempted to put something else here, I didn't want it to be all sci-fi and fantasy and horror, and also, I just can't deny the fact that I was smiling pretty much the whole time I read book one. I love the characters, the art style is just.. so cute, and I mean, it's just.. it makes me smile. And this is my list, so I feel that's enough to include it. If you just want something nice and funny and feel-good, then I highly recommend Giant Days.
9.
She Wolf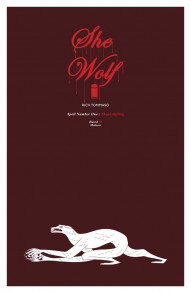 So uh
She Wolf is fucking weird and disturbing and will definetly not be for everyone. It's a kind of... surreal, sex-driven horror fantasy comic? I just... personally, I love the overall look and aesthetic, but I know some people find it off-putting. Or, to put it another way, a lot of people find it off putting. Me? I think it's fascinating. I can't really say I like the characters, and the story is kind of all over the place, but just the overall aesthetic is... fascinating.
8.
Paper Girls
Think Stranger Things, but with a group of girls, and time-travel instead of an alternate dimension. That's not a totally accurate comparison, but this comic thrives off of 80's pop sci-fi and 80's culture in the same way that Stranger Things does. In the early hours of Halloween of 1988, four 12-year old paper girls discover a portal through time that takes them far away into the near future and the distant past on a journey that will lead them to encounter other time-travelers, mechs, monsters, and long-extinct creatures. The writing by Brian K. Vaughn is... well, it's Brian K. Vaughn. He's gonna have some other comics on my list(Ex Machina, Saga), and suffice to say he's fucking incredible. The colors by Matt Wilson are amazing, as is the art by Cliff Chiang. This all-star team delivers a comic that is just a joy to read. My only gripe is it feels a bit too fast-paced(kind of an issue with Vaughn if I'm being honest), and the story is so confusing at times that I feel compelled to reread the whole series almost every issue that comes out.
7.
Ex Machina
Ex Machina is a superhero Political Drama. It's about the world's first - and only- superhero, who after saving one of the World Trade Towers during 9/11, becomes elected Mayor of New York City. Most of the comic is a political drama, dealing with issues facing New York City, and how the mayor deals with these issues. There are alliances and betrayals, plans to move to the top, and conspiracies. But, there's also superhero stuff going on. Most times, flashbacks to the mayor's superhero days will accompany whatever problem he's currently facing, but as the story goes on, sci-fi elements slowly creep into the story. The characters and writing are excellent, but I do have to warn you, the series ends abruptly. This series was published by Wildstorm and continued to be published by Wildstorm after they became an imprint of DC's, but when DC folded Wildstorm, Ex Machina went with it. Still, the ending isn't totally unsatisfying, and it's worth the read.
6.
Invincible
Fucking kills me not to put this in my Top 5, but it's just so crowded with great comics, that there's no room for Invincible. I think part of that is that I'm partial to darker stories. Make no mistake, Invincible can get really fucking dark, but at its heart, it's smiling. It's crazy over the top action, and it's having fun. So maybe it's just my personal taste that keeps it out of my Top 5, but I can't deny it deserves to sit right outside the Top 5 at the very, very least. Because the artwork by Ryan Ottley is incredible, the story by Kirkman takes so many insane twists and turns, it balances a loveable ensemble cast(See Kirkman? It's not that hard. You've done it! We can't you do it for Walking Dead??), it's hilarious, it can be surprisingly dark, and it's just a lot of fun.
Invincible is a superhero comic with the goal of subverting every single trope of the superhero genre. It's a parody, but it's also a story in its own right. It's got a character named Dinosaurus that's a hyper-intelligent eco-terrorist T-Rex. So... yeah. Read it. This is another one of that list that is an "everyone should read this".
Quick caveat though, read Volume 1-3 all the way through. The first two books are... kinda rough, it really gets good at Book 3. Trust me.
5.
Kill or be Killed
Kill or be Killed is disturbing as fuck. The story about a man who tries and fails to kill himself, and then believes he's seeing a demon who claims to have saved his life, but in exchange for a deal. Dylan must send one soul to hell each month, or die himself. Forced into an impossible situation, the killing begins.
What makes this comic so disturbing isn't the premise, although it's always scratching away in the back of your mind if Dylan is hallucinating this demon or not, it's the fact that we're stuck in Dylan's head. He's telling the story. And I don't mean we're reading his internal narration, which we are, but he's also telling the story. To us. Imagine if someone tried to tell you something that happened to them in a conversation. They jump ahead, they jump back, they get lost, they focus on little details, skim over others.... they lie. And what makes this style of writing so engaging, and so disturbing, is that as things go on... we have no idea about any of what we're being told. We're being told a horrific story by the disturbed individual at the center of it... and that's what makes Kill or be Killed so engrossing. It just... doesn't let go.
4. The Wicked + The Divine
Imagine if the gods were alive today. A pantheon of twelve gods, revived into the modern day, from all across human history and culture. Lucifer, Sehkmet, Baal, Minerva, The Morrigan, Amaterasu.
Now imagine if they were revived as Euro-vision style pop stars.
Yeah
The Wicked + The Divine is basically a cast of absolutely fucking insane larger than life characters combining the drama of the gods with the drama of celebrities. It's about art, morality, the divine, celebrity, and a lot of drugs and sex. The art is colorful and action-packed, the writing is snappy and hilarious. It's funny, it's sad. It spans the whole spectrum of what a story can be. It's serious and flippant, surreal and grounded, feel-good and crushingly depressing... it's The Wicked + The Divine.
3.
Saga
Saga is the story of a family trying to find their place in the universe. And it's one hell of a story.
This is a space opera is the truest sense of the genre. Melodrama, larger than life characters, insane twists and turns, and all of it rippling out to change the fate of a universe tearing itself apart with war. This series has some of the weirdest, most loveable characters in all of comics, and it's got the most bat-shit insane stuff happening in it. It's a story about war, peace, love, sex, family, diversity, and childhood. It's a story about talking meerkats, sex-planets, goat people, robot politics, a fuck-ton of drugs, and a Space Walrus named Friendo. There's just... really, I could talk about Saga all day, but all you need to know if that you need to read it. My next two comics, they might not be for everyone. But Saga? Everyone should read Saga.
2.
Wytches
This horror epic by Scott Snyder has the potential to be huge, as big as my #1 pick even. But, this is kind of cheating even including it on the list right now, because it's only one book. Thankfully, this is a series, Book Two is coming soon. But I couldn't just ignore the first book. The themes and the characters are what make Wytches so real, and so good. On one hand, it's the story of a parent struggling to deal with a vulnerable, emotional child, struggling to protect her from the world, and struggling to keep his own emotions in check. It's the story of an artist, a parent, and a man struggling to balance all three roles, and it does so expertly. On the other hand, it's the story about a child struggling with anxiety and depression who feels alone in the world. Someone always on edge, always afraid of abandonment, always afraid of being a burden, always afraid of being broken, and fighting against all of that to be brave. Every single day requires bravery. These two characters, Charlie and Sailor Rooks, are some of the best characters in all of comics, and some of my favorite characters ever.
But it doesn't even end there. Snyder's interpretation of Wytches is truly horrifying and cuts to the heart of human evil. They only hunt those who have been pledged by other humans, and for those that pledge, they are rewarded with life, power, wealth, whatever their heart desires. It's a system that perpetuates human evil, that turns neighbor against neighbor, and out two incredibly strong and incredibly fragile heroes are caught up in the middle of it.
I. Can't. Wait. For Book Two to come out, because Book One is so emotional, so horrifying, just so... incredible. This has to potential to be better than Outcast... If Snyder would just take a fucking break from writing Batman to actually work on his original stories.
1.
Outcast
Outcast is by far one of the best comics I've ever read. The art by Paul Azaceta is incredible, able to capture the human evils of abuse, the horror of loneliness, and the supernatural horror of demonic forces. Characters are expressive is creepy, horrific ways, and he brings a physicality to the comics that even surpasses its own television adaptation at times. Of course, the real start of the show is colorist Elizabeth Breitweiser, who brings so much to the comic with her stunning color work. Seriously, there's so much raw visual storytelling even in just what colors the panels are. You can flip through a volume of Outcast looking only at the color palette and get a sense of the pacing, structure, and tone of the story. It's fucking incredible, and the fact she's been snubbed for an Eisner the past two years is a crime.
And then there's Kirkman's writing. This is a Kirkman at his best. Outcast is a character-drama consisting of a tight-knit cast. It's about family relationships, shared abuses, differing beliefs in the world. Thematically, it's a story about abuse, and the demons, both figurative and literal, that haunt us, and so much of that is brought across visually in the panel layouts. In fact, a brief diversion to talk about layouts, Outcast has the most incredible sense of pacing I've ever seen from a comic, and it's mainly because of the panel layouts. So much information is jam-packed into each page in a way that flows naturally, and it all has to do with the mini-panels Kirkman utilizes. It's a unique style I've never seen anywhere else, and it brings so much to the storytelling. The dialogue is human and real, but Kirkman never relies on it too much. This is both a story with dark, real themes and characters, and an epic that builds up a mythos surrounding itself. It blends the genres of fantasy and horror, and it reveals information and new secrets in a way so expertly designed as to always keep the reader guessing. There's so much control given to the art, design, and writing of this comic it's incredible, and everyone involved is, as far as I'm concerned, a master of the craft, and Outcast proves it.