Post by Rock114 on Jun 23, 2016 11:17:25 GMT
Since conquering Napoleonic Europe was too easy for me, I downloaded "The Great War Mod" which, as the name subtly implies, converts the game from Napoleonic times to World War 1. Yes, with machine guns, tanks, and everything. The mod is still kind of glitchy (Like units moving out of position for no reason) but it's still an amazing mod. I decided to play as France and knock the difficulty up from Normal to Hard, and fuckin' hell it got brutal.
It's currently February of 1916 and the Western Front hasn't moved very much at all. I have made more progress in some areas, but for the most part the fighting is taking place in the same or similar/close regions it actually did. And the battles, dear Lord. I routinely lose half my force, even in victory. In the base game I would be unlucky if I lost 500 out of 2000 men, but here I'm averaging 1000 or more during most battles. The fuckin' Germans refuse to give ground. I even took some screenshots of the carnage.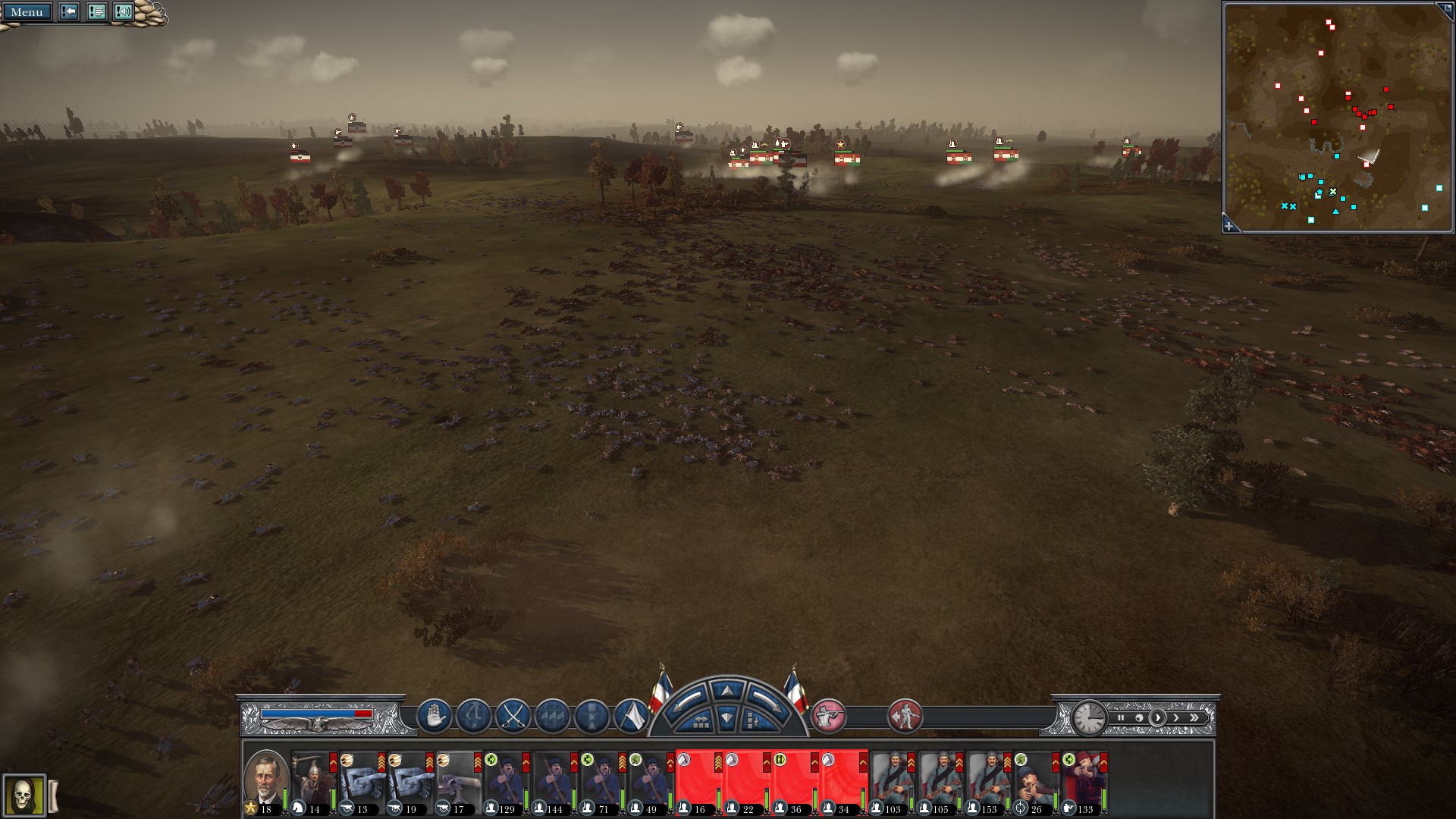 This came from a battle near the city of Reims, which the Germans took in early 1915. This is around October or November, same year, when I attacked the city with a full army to try and take it back. The Germans opened up with a cavalry charge, but my conscripts and Territorial Infantry (Troops from France's many colonies around the world) destroyed them in no time flat. The German infantry was approaching though, and so I pushed those men up to give them a better position. But the Germans advanced faster that I anticipated and my men were caught unprepared at point blank range. The Germans cut several down with their rifles before charging into the depleted units and killing them nearly to a man. My men broke pretty quickly, but when they did there were hardly any left.
Still, that was enough time for me to get my next line prepared, which consisted mainly of Polish Infantry and a few Old French Rifle units. They laid into the Germans with their rifles and killed a lot of them. And I mean A LOT. But they still kept coming, so I ordered my men to withdraw to my final line of defense where my machine guns were located. A few units I left behind put fire on the Germans as the rest fell back. Thankfully, having had the shit kicked out of them by my secondary line, the Germans didn't have enough fight left in them to attack and began to retreat en masse. This picture is the aftermath of that battle. There are more bodies off screen to both sides, but this was the best angle I could get. The guys in blue are my men.
But look into the background. See those flags? That's the Austro-Hungarian Empire
just
arriving and forming up to continue the battle. That's right, this picture is only showing the aftermath of the first half of the battle. They formed up and I drew them to my men where we began cutting them down with machine gun fire, but he refused to commit his entire force. He took some around my flank and shot up the units there while most of my line was concentrating on one bastard of a unit in the center that refused to break. Eventually I had to push forward due to running low on time and assaulted through a copse of trees, where my remaining units (Mostly Polish and colonial troops) got hit hard, but hit back even harder. Thing is, I failed to completely wipe out his army before time ran out, so I lost. Yeah, all my guys died for nothing. The Germans, with the help of Austria-Hungary, held the field.
But wait, there's more.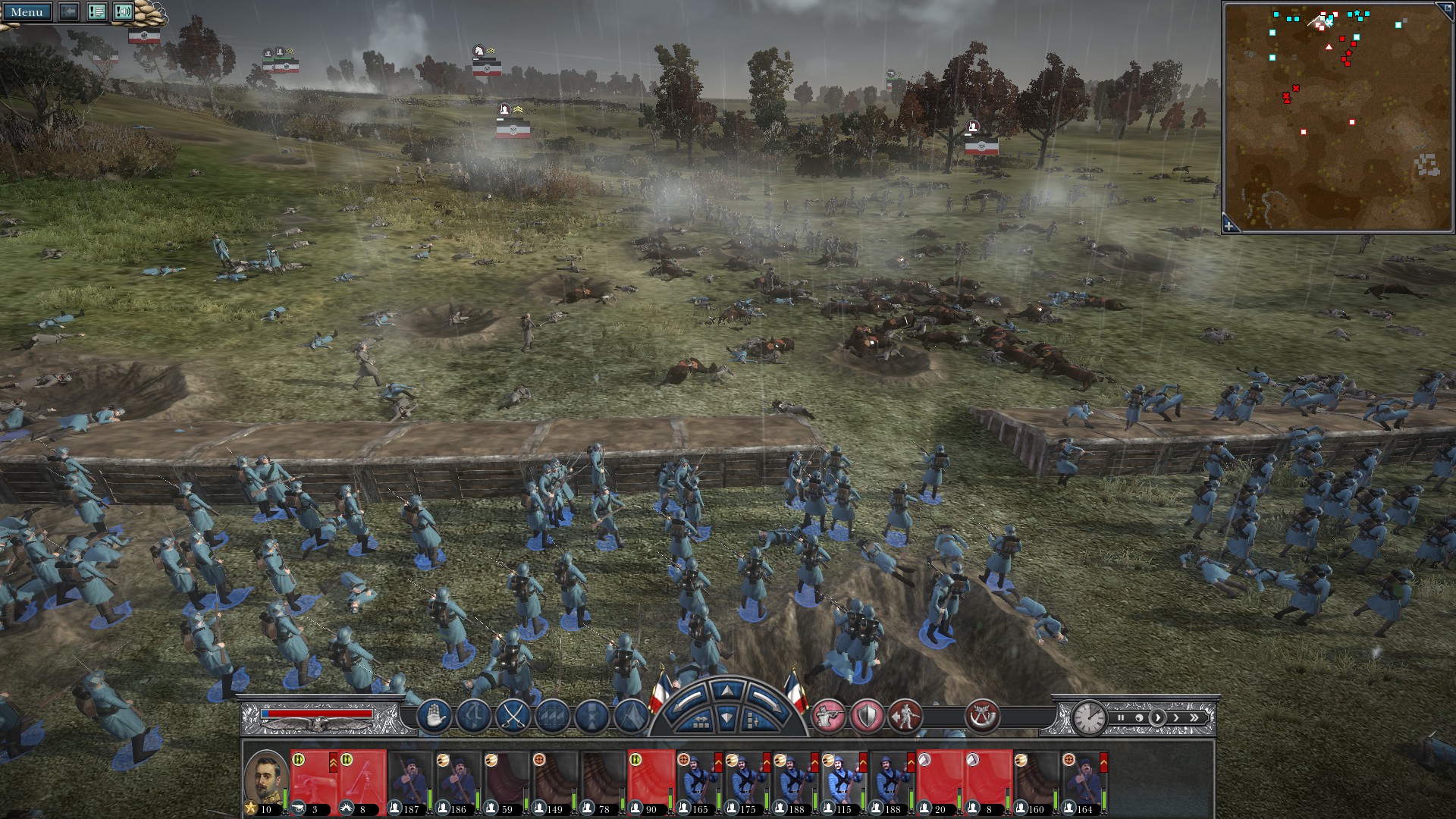 January, 1916. This is my
third
, yes
third,
assault on Reims. This time I decided to besiege the city and either starve the defending Germans out or force them to attack me, where I could annihilate them from the safety of my trenches. Guess what? The Germans attacked my men immediately. I devised what I thought was the perfect defense. Conscript and Territorial troops in the front line, with a machine gun unit on both flanks facing inward to mow down the Germans before they could get near me. Further behind that line I had my French and Polish rifles, my good units, in a second trenchline with the mortar units. The mortars would rain down on the advancing Germans as they approached the first line, where my machine guns and conscripts would put up a fight and kill as many as they could before they started to become overwhelmed. Then I'd retreat them to the second line, where my quality forces were, and their combined firepower would destroy whatever Germans remained.
It didn't go that way. The Germans started far closer to my lines that I thought they would, so the minute I started the battle everyone was shooting and screaming. And the Germans
did not give a fuck
that they were charging into what should have been the deadliest killzone in France. They bumrushed my first line and, even though they took some noticeable casualties, charged directly over my trenches. My machine guns were silenced before I could pull them back to a safe distance and my center broke in less than a minute, letting an entire German army swarm through. I fell back my men on the flanks and braced my second line to hold. That's them in this screenshot. Not sure if these guys are French or Polish in the picture, but I know it's the center of my line. But by this time my mortars had been silenced by enemy artillery, which was now shelling my infantry as they tried to hold. If you look at the minimap in the upper-right, you can see that we're literally at the extreme edge of the map. We have nowhere to run.
The first German wave is disastrous, but by some miracle everyone held their positions. This is a shit screenshot because about 10 seconds earlier, that whole space in front of my men was filled with smoke and screaming Germans with artillery going off in the middle of them all, and looked awesome. What you see is the Germans beginning to retreat (Their first wave, that is) while my men bravely shoot them in the back. I was bracing myself for the second, larger attack when my entire army collectively shat their pants and ran like hell. Yeah, they routed. All of them. THAT attack was a failure too. The Germans STILL have Reims.
Now I'm just training up more men to feed into the meat grinder that is this godforsaken city and hope that my next attempt doesn't end similarly.