Post by Autobot Sonic Part II on Jun 8, 2016 15:08:01 GMT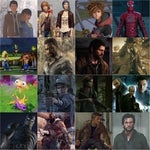 This episode was good. I liked the whole murder mystery theme of it. I did like meeting other crafters based on the Minecraft Youtubers. Although, maybe it's just me, but CaptainSparklez looked just like Jefferson from "Life is Strange". Even though TorqueDawg was a bit of a dick, he didn't deserve that untimely death. Once it was established that this was a mystery, I just said, "Time to go all Bigby Wolf on this case".
I wasn't entirely sure who to suspect at first. My first that was Sparklez because he was the only one in the room when it happened, but then I thought, nah that'd be too easy. The way Dan looked at my when I first went into the diniing room, it made me feel suspicious about him, but after Sparklez was killed and questioning everyone, I believed it to be Stampy since he was the only one I caught in a lie and he had high knowledge of redstone building to make the traps. But then, Dan comes in and says he pushed the trap door button cause he got curious, (and you know what they say, curiosity killed the cat) I knew I done goofed and would have to deal with the consequences.
Things started getting very stressful when Lukas got framed for being the killer and Petra being pissed about it. As soon as I heard and saw those cats inside that lair, I just knew that it was really Cassie the whole time. I should've known... And just when I thought she was buried by her own trap, she pulls a Houdini on me and I end up fighting an intense fight against her with those Ender Pearls, which, by the way, are pretty cool to use. I'm also glad I was able to get a reference of Rueben by telling Cassie that cats suck and pigs are better. (No offense to my sister's two cats.
)
Wherever the next portal Jesse and the gang go through in that portal hallway in the next episode, I hope it brings them step closer back home. I miss Olivia and Axel.
MY CHOICES:
-I showed Sparklez the flint and steel. He did back me up during the argument and shed some light about the enchanted flint and steel being the "rare item".
-I accused Stampy. He seemed the most suspicious based on how I questioned everyone.
-I helped fight off the spiders. Figured they would be needing my help more.
-I convinced the others about Cassie Rose. Elementary, my dear crafters.
-I left Cassie with Winslow. I just couldn't resist the sad look on the kitty cat's face.
When you accused Stampy, did he end up being locked in the library? I didn't accuse anyone, so Dan locked himself in the library and Lizzie came to talk to him. Did Dan die in your game?